Zachary Rogers, more commonly known as Zac was a former recurring character on The Fosters. He was a love interest for Mariana Foster and was her first boyfriend. He was first introduced in House and Home as a crew member for a school theater play. He moves to Arizona in Adoption Day to live with his father due to his mother being unable to care for him due to her having early Alzheimer's.
Zac is portrayed by Julian de la Celle.
Biography
Zac is a 15 year old freshman. His dad left Zac and his mother ten years ago as mentioned in Don't Let Go. He was the editor of the Anchor Beach newspaper.
Physical Appearance
Zac has hazel eyes that go with his brown hair.
Series
Appearances (8/91)
Season 1 (8/21)
Relationships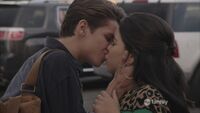 First Relationship:

Start Up: Don't Let Go (1x20)
Broke Up: Adoption Day (1x21)

Reason: Zac's mother proved to have early on set Alzheimer's disease, meaning Zac will have to live with his dad in Arizona while she got proper care. Zac and Mariana decided against having a long distance relationship.
Main article: Zariana
Zac was a classmate Mariana met while on the set of a school play. It is hinted at that he has a crush on her. However, she initially doesn't feel the same way. Despite her original platonic feelings for him, Mariana grows close to Zac and eventually returns his feelings. They have a short lived relationship, with his mother suffering from early Alzheimer's disease and requiring proper care. This results in Zac moving away to live with his father. Zac is Mariana's first boyfriend.
Trivia
  He repeated his freshman year.
  Zac had to move to Arizona, at least for the time being, in Adoption Day with his dad due to his mother being diagnosed with Alzheimer's disease.
Gallery
Click here to see Zac's gallery.
Quotes
Click here to see Zac's quotations.
Ad blocker interference detected!
Wikia is a free-to-use site that makes money from advertising. We have a modified experience for viewers using ad blockers

Wikia is not accessible if you've made further modifications. Remove the custom ad blocker rule(s) and the page will load as expected.