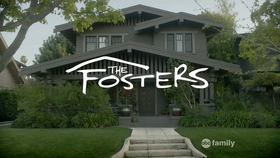 The Fosters is an American drama series that airs on Freeform (previously known as ABC Family). The series premiered on June 3, 2013. The series follows the lives of the AdamsFoster family, composed of a lesbian couple who are raising their children together. The show is set in the 21st century in San Diego, California.
Premise
Stef Foster and Lena Adams are the Fosters, an interracial lesbian couple who are partners and living in the Mission Bay area of San Diego, raising Stef's biological son, Brandon Foster, along with their adopted twins Jesus and Mariana. Stef is a police officer, while Lena is a school principal. Lena decides to take in Callie, a "troubled" teen girl with an abusive past whose ways will turn the family lives upside down. Subsequently to the family, will be added, Callie's youngest maternal half-brother Jude. In the end, the two women will legally marry, and the two siblings will definitively be adopted, adding them, to the already big family: Adams-Foster.
Cast
Main
Teri Polo as Stef Adams Foster. Stef is a police officer, the wife of Lena, the biological mother of Brandon, the adoptive mother of Jesus, and his twin sister Mariana and of the half-brothers Callie and Jude. Stef is a woman of character, tough and strong. Stef is also Mike's ex-wife and his partner. Initially, Callie will not feel very comfortable because of her job.
Recurring
Episodes
Main Article: Episode Guide
Season
Episodes
Originally aired
DVD release date
Series Premiere
Season Finale
Region 1
Region 2
Region 4
1 
      21
    June 3, 2013
March 24, 2014
TBA
TBA
TBA

2
      21
    June 16, 2014
March 30, 2015
TBA
TBA
TBA
3
      20
    June 8, 2015
March 28, 2016
TBA
TBA
TBA
4
      20
    June 20, 2016
April 11, 2017
TBA
TBA
TBA
5
      22
    July 11, 2017
   June 6, 2018
TBA
TBA
TBA
Critical Reception
The Fosters received positive reviews from critics. The show currently holds an 88% approval rating "certified fresh" on review-aggregation website Rotten Tomatoes with an average score of 6.9 out of 10, based on 17 reviews. The show received generally positive reviews on Metacritic with an approval of 70 out of 100, based on 11 reviews. The show received generally positive reviews on IMDB with an approval of 7.8 out of 10, based on 4,208 votes from users as well as 20 reviews from users and 5 reviews from critics. The show received critical acclaim from users on TV with a score of 9.2 out of 10, based on 106 votes from users and 13 reviews from users.
Awards and Nominations
Year
Award
Category
Recipients and nominees
Outcome
2013
Teen Choice Awards
Choice TV Breakout Show
The Fosters
Won
Choice Summer TV Show
The Fosters
Nominated
Choice Summer TV Star: Male
Jake T. Austin
Nominated
Choice Summer TV Star: Female
Maia Mitchell
Nominated
2014
NAACP Image Awards
Outstanding Directing in a Drama Series
Milicent Shelton
Nominated
GLAAD Media Awards
Outstanding Drama Series
The Fosters
Won
GLAAD Vanguard Awards
Jennifer Lopez
Won
TCA Awards
Outstanding Achievement in Youth programming
The Fosters
Won
Teen Choice Awards
Choice Drama
The Fosters
Nominated
Choice Drama: Actor
Jake T. Austin
Nominated
Choice Drama: Actress
Maia Mitchell
Nominated
Choice Summer TV Star: Male
David Lambert
Nominated
Choice Summer TV Star: Female
Cierra Ramirez
Nominated
2015
GLAAD Media Awards
Outstanding Drama Series
The Fosters
Nominated
TCA Awards
Outstanding Achievement in Youth Programming
The Fosters
Won
Teen Choice Awards
Choice Drama
The Fosters
Nominated
Choice Drama: Actress
Maia Mitchell
Nominated
Choice Drama: Actor
Jake T. Austin
Nominated
Choice Summer TV Star: Male
David Lambert
Nominated
2016
People's Choice Awards
Favorite Cable TV Drama
The Fosters
Nominated
GLAAD Media Awards
Outstanding Drama Series
The Fosters
Nominated
Teen Choice Awards
Choice Summer TV Show
The Fosters
Nominated
Choice Summer TV Star: Female
Cierra Ramirez
Nominated
Choice Summer TV Star: Male
David Lambert
Nominated
Choice TV Actress: Drama
Maia Mitchell
Nominated
2017
Teen Choice Awards
Choice Summer TV Show
The Fosters
Nominated
Choice Summer TV Actor
David Lambert
Nominated
Choice Summer TV Actor
Noah Centineo
Nominated
Choice Summer TV Actress
Maia Mitchell
Nominated
Choice Summer TV Actress
Cierra Ramirez
Nominated