Stay
Season 2, Episode 13

First Aired
January 26, 2015
Viewers (millions)
1.20
Writer(s)
Marissa Jo Cerar
Director(s)
Elodie Keene
Episode Guide
previous
"Over Under"
next
"Mother Nature"
Stay is the thirteenth episode in Season 2 of The Fosters. This episode aired on January 26, 2015. It is the thirty-fourth episode overall.
Kiara from Girls United reaches out to Callie when she is placed in an unfit foster home. Callie recruits Stef to help, but they soon find getting Kiara out is not as straightforward as it seems. Mariana is invited to join the STEM team at her school after she tests above her class but she chooses to downplay her math scores to her boyfriend, Mat.
Meanwhile, Brandon tries to convince his parents to let him join in on an opportunity with the band, and Jesus shares his secret with Hayley.
Main Cast

Edit

Guest Cast

Edit

Alex Saxon as Wyatt
Cherinda Kincherlow as Kiara
Alberto De Diego as Rafael
James C. Victor as Jack Carver
Michael Traynor as Craig

Co-Starring

Edit

Christopher Goodman as Tom
Darryl Alan Reed as Apartment Manager
Terryn Westbrook as Tracy Craver
Brandon Morales as Officer
John Lee Ames as Crazed Man
The episode title, Stay, may be referring to Callie staying home and not running away. It may also be referring to Kiara's refusal to stay in a dangerous foster home and running away.
This is the first and only season 2B episode where Wyatt makes an appearance. What happens to him after this episode is unclear. He returns in the Season 3 premiere.
This is the first time we see the drop-in center. Callie becomes a volunteer at this center making this place a regular setting.
This episode brings up the issue about the value of standardized testing and whether or not they are a good indicator of a school's performance.
According to the standardized tests, Anchor Beach does really well in math but not in English.
Mariana scored a 98% on her math exam, which is the highest in her grade. Mat scored a 92% on his math exam.
Featured Music
Edit
Main Article: Music Guide
Sabotage by Amy Stroup (Wyatt asks Callie if she every wonder what would have happened if he hadn't called Stef and Lena. Callie tells Wyatt about situation with Robert when he suggests she run away with him.)
All the Trees by Curtis Harvey (At the vending machines at school, Wyatt snaps at Callie.)
Move Like U Stole It by ZZ Ward (Mariana shows Mat her new dance routine.)
We Will Win by Todd Zero (Brandon and Jesus sit in Brandon's car they talk about the Alateen meeting then head for pizza.)
Busy Busy by Broken Anchor (Jesus and Brandon ate pizza and talk about Hayley then Jesus reveals his tattoo to Brandon who tells him he had done worse; Jesus and Brandon decide to head out to the Alateen meeting after all.)
Higher and Higher by Scars On 45 (Callie arrives home and Stef hand her a note from Kiara; Lena and Stef talk about Callie & Kiara over tea.)
Last Goodbye by Split Single (Callie asks Rafael if she could volunteer and get credits for school; Rafael shows Callie around the center.)
Over You by Ingrid Michaelson (ft. Great Big World) (Callie asks Brandon if the reason he can't be with her is because of Lou. Brandon tells her that it's not because of Lou but Callie herself.)
Promo and Sneak Peeks
Edit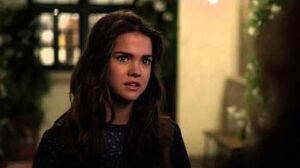 Ad blocker interference detected!
Wikia is a free-to-use site that makes money from advertising. We have a modified experience for viewers using ad blockers

Wikia is not accessible if you've made further modifications. Remove the custom ad blocker rule(s) and the page will load as expected.