Safe
Season 4, Episode 2

First Aired
June 27, 2016
Viewers (millions)
1.05
Writer(s)
Joanna Johnson
Director(s)
Rob Morrow
Episode Guide
previous
"Potential Energy"
next
"Trust"
Safe is the second episode of Season 4 of The Fosters. It premiered on June 27, 2016. It is the sixty-fourth episode overall.
After being given the all clear to head home, tensions are still running high in the Adams Foster household. Fragile and skittish from the school lockdown, the family sticks close, but their secrets keep them apart. Callie and Brandon anxiously wait for their moms to address their behavior in Idyllwild while Stef warns everyone to stay off their phones and computers due to the rumors swirling around their family. Meanwhile, Brandon sneaks out to help Cortney move, leading to a major blowup between him and Stef.
Main Cast
Edit
Recurring Guest
Edit
Resources
Edit
Promo and Sneak Peeks
Edit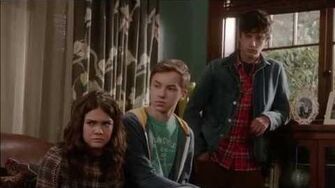 Ad blocker interference detected!
Wikia is a free-to-use site that makes money from advertising. We have a modified experience for viewers using ad blockers

Wikia is not accessible if you've made further modifications. Remove the custom ad blocker rule(s) and the page will load as expected.