Mariana Foster is a main character on the The Fosters. She is the daughter of Stef Adams Foster and Lena Adams Foster, the fraternal twin sister of Jesus Foster, and the sister of Brandon Foster. Her birth mother is Ana Guterriez. During the first season, she sold Jesus' medical pills to earn money to give her birth mother, and developed a crush on Garret, a family friend. 
Mariana is portrayed by actress and singer, Cierra Ramirez.
Biography
Mariana is Jesus's 15 year old twin sister and was taken in as a child along with him by Lena and Stef, and later formally adopted by them. She was born on May 17th, 1998. She is very smart and girly, and cares about her appearence very much. She's popular and social, but also very naive when it comes to certain topics. Such as, reconnecting with the mother who abandoned her and Jesus at a very young age, and stealing Jesus's pills and selling them to earn money that Mariana can give to her mother. After Mariana's drug trafficking begins to unravel, one of her friends is caught sniffing up the sold drugs and, to defend Mariana, blames the trafficking business on Callie. Mariana let's Callie take the blame but soon her guilt builds up and she decides to tell her mothers. Before she can, though, Jesus takes full blame and responsibility for all the actions with his pills, clearing Callie's name and protecting Mariana at the same time. She speaks Spanish fluently and likes to gossip.
Physical Appearance
Mariana has a very good fashion sense and seems girly. She has wavy/curly hair, and beautiful brown eyes. She wears makeup regularly. As for her dress, Mariana seems to love heels and short skirts or shorts. Her nails are always done. She is pretty on the inside with caring for her family and protective of her twin brother (sometimes) but she can also be a spoiled brat (sometimes).
Season 1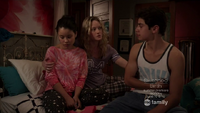 When Lena brings the possibility of the twins meeting their birth mom, Ana, Mariana appears uninterested despite having talked about it excitedly for the past six months (according to Lena). Mariana says she is not ready to meet her yet.
Callie catches Mariana stealing pills from Jesus. It is later revealed when Jesus discovers a large amount of cash, that Mariana was selling the pills because Ana needed money. Jesus gets mad at her, reminding her that Ana abandoned the twins so she could run off with a "dumbass" and screw whoever she wanted while he was holding a picture of them and ripped it in half. Mariana tearfully tells him that Ana has come back to town. Mariana fakes a stomach ache in order to sneak out and meet Ana, whom she has been chatting with online. They finally meet, but it is not what Mariana was expecting. Ana takes the money and leaves suddenly. Mariana is devastated and goes home.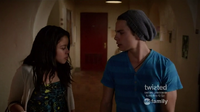 Lena and Stef are told that Callie has been taking pills from Jesus and selling them for money by one of Mariana's friends. Later, Jesus convinces Mariana to tell them the truth. She asks him to accompany her while she tells them and he agrees. Jesus seeing how scared she was, ends up taking the blame for Mariana. Lena and Stef abashedly apologize to Callie.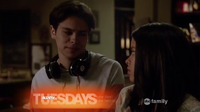 Mariana is blamed for reading Callie's journal. Mariana told Callie she didn't do it and knows that Callie doesn't trust her. Then, she explains to Callie the reason behind her selling Jesus' pills.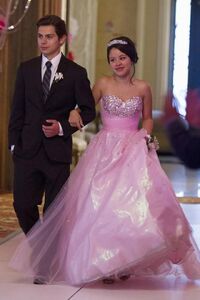 Mariana prepares for her Quinceañera and asks Callie to take Kelsey's place in her court. Callie agrees to do so. Mariana also asks Mike to do the traditional father/daughter dance with her because she is a little embarrassed of having two moms.
During the Quinceanera Mariana finds out about Jesus and Lexi's relationship and is not happy. Mariana tells Jesus she knows about the relationship. Lexi tries to talk to Mariana in the bathroom but gets the cold shoulder. Mariana ends up dancing with Mike instead of with her moms.
Lena and her mom have a disagreement. Lena's mom thinks that Mariana shouldn't have had this party and thinks just because she is latina doesn't mean she's latina. Lexi insists on leaving but Jesus stops her and says it's his birthday too and that he wants at least one dance with her.
They have cake and have a family photo including Callie and Jude. They show a slideshow of Jesus and Mariana. During the slideshow it shows some pictures of Mariana and Lexi. Mariana smiles at her. Mariana tells Lena and Stef that she is acting selfish (because Jesus said she was being selfish because they raised her and gave her this party and she won't dance with them) and says sorry to her moms. Her moms disagree and say she is wonderful. At the end no one saw but she did dance with them.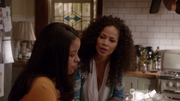 Mariana is still mad at Jesus and Lexi for dating and doesn't want Lexi around her at all. Lena tries to tell Mariana that Lexi is Jesus's girlfriend and her best friend and that she should accept that. Mariana tells Lena that that's not what a best friend does. The conversation ends with Mariana leaving and saying "If that's love, I don't want it." Later that day, Mariana sees Garret one of her old friends; her moms' friend's adopted son. They catch up and he invites her to a poetry slam with him.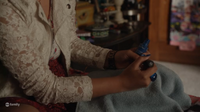 The next morning, Mariana and Jude were talking about nail polish and she offered to paint his nails. Jude accepted the offer and Mariana began painting Jude's nails a bright blue. Callie walked in and told Jude not to wear the nail polish to school, and Mariana tells him that he doesn't have to do everything Callie says. He takes Mariana's advice and wears the nail polish to school.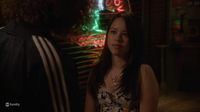 The next day as Mariana goes to a poetry slam where Garret was performing, she preformed her first poem. They read the list of people who will be reading again and she is dissappointed when she finds out she is not on the list. The next day Mariana gives herself a nose piercing before the whole family goes to Garrett's poetry session. 
At breakfast, Mariana rebuffs Jesus' wanting to go to a church camp for the weekend with Lexi, and questions his religious beliefs; "Since when are you religious?" Later, Mariana meets with her birth mother, Ana, instead of seeing Garrett like she told Lena. They discuss her Quinceañera and Ana even gives her a gift. Back at home, Callie and Mariana discuss Wyatt's party, and Mariana suggests that they should go. Callie reluctantly agrees before they tell the moms that they are going to Wyatt's to watch a movie. At the party, Mariana runs into Kelsey who lets slip that Jesus and Lexi had unprotected sex. Mariana, angry and upset, gets drunk and Callie decides it's time to leave. When Mariana and Callie arrive back home, Mariana makes a scene in front of the dinner party and tells Lexi's parents that Jesus and Lexi had sex. Angry, Stef and Lena put Mariana to bed. 
Mariana and Jesus are fighting over the fact that Mariana told Lexi's parents that he and Lexi had sex. Stef ends the fight and tells Mariana that she brought it upon herself. Because of what Mariana did, Lexi's parents refuse to let Jesus date their daughter and have decided to send Lexi to a boarding school. Feeling guilty, Mariana helps Lexi hideout from her parents after running away. While helping Lexi, the girls talk and reconnect. After finding out from Jesus that Lexi and her parents are not legal U.S. citizens, Mariana reveals where Lexi is staying.
During dinner, the phone rings and it's for Mariana.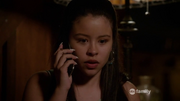 When she answers and realizes it's Ana, she tells her she should not be calling her at home. She tells her birth mother that she has no more money to give her and frustrated, hangs up. Suspicious, Jesus asks Mariana about the phone call and Mariana tells him that Ana is asking for more money. The next day, Jesus and Mariana go to visit Ana at her house. Back at home Jesus tells Mariana they should take their birth mom to a women's shelter, but Mariana rebuffs him and tells him that they can never go back there. Later, Jesus goes back anyway and worried about her brother, Mariana confesses to Stef and Lena where he might be.
Lena and Mariana pick up Jesus after he lied about his whereabouts. After picking him up, Lena receives a phone call from Mike about Stef's shooting. They immediately drive to the assigned hospital. Meanwhile, Brandon, scared and angry, yells at the twins for their actions. But Callie calms him to which he leaves. Mariana along with Brandon, Jesus, and Lena visit Stef pre-surgery. Mariana (as a child) appears in a flashback of how Stef met the twins. They were dropped off to Stef's precinct after their foster parent said that they couldn't take care of them anymore. Stef, feeling bad, visits the twins giving each a lollipop and they introduce themselves. Back to the current time, Mariana (as a teenager) is going through boxes. Jesus joins her. They notice a poem that the moms have written to them about introducing the twins in their lives. Mariana becomes upset about it, and she asks Jesus "What if they don't us anymore?" Brandon joins the twins. He apologizes for bursting as they are family. The next morning, the rest of the family go back to the hospital. Mariana, feeling like nobody wanted her around, was sitting outside until Lena sat beside her. She explains that her actions were to grow up, and she didn't want supervised visits. Lena comforts her saying "DNA doesn't make a family. Love does." Lena and Mariana embrace.
Mariana tells Callie that she wants Liam put away for his crimes. After class, Lexi reveals to Mariana that it's definite that she'll move to Honduras. Mariana fakely promises to Lexi that she won't tell Jesus but she does. Mariana removes her nose piercing for the moms to please them. Mariana dances with her family. She is asleep when Callie runs away.
Mariana and Jesus get into an argument about who gets to spend time with Lexi before she leaves for Honduras. Jesus enters Mariana's room while her and Lexi are working on their English assignment. He asks for time alone with his girlfriend, but Lexi lets him go after feeling she is letting her best friend down. She tells her that it is complicated when you are in love, and that she will understand once she has a boyfriend. Mariana is left angered by this. Jude rushes into Callie and Mariana's bedroom checking her closet and her drawers only to find out that it's empty. The family have a family meeting discussing about Callie. Brandon asks Mariana if she thinks Callie is back with Wyatt. She says that she doesn't think as she thinks they broke up a month ago. Brandon doesn't understand why Callie would take off. Mariana says that finally felt like she had a sister. They realize they are late for school until Stef's car won't start. At school, Mr. Timothy tells Mariana that she will need a new partner. She now finds out that Lexi is leaving for Honduras and not returning.
Appearances (21/21)
Season 1
Relationships
Mariana was visited by a childhood friend, Garrett. Mariana had started getting interested in him. She goes drastic measures to impress him only to learn that he does not feel the same way as she does.
Trivia
She has a twin brother, Jesus
She has a nose piercing. (The Morning After) She takes it off before the wedding in I Do.
She sees Ana, her birthmom, for the first time in Pilot.
She seems to wise up about Ana, that she'll just keep using her for money. (Clean)
She seems to have 2 crushers: Zac and Chase
Gallery
Click here to see Mariana's gallery.