Lexi Rivera is a recurring character on the ABC Family series, The Fosters. She is Mariana's best friend and the love interest of Jesus, Mariana's brother. She appears for the first time in Consequently, the second episode of the first season.
She is portrayed by Bianca A. Santos.
Biography
Lexi is Mariana's childhood best friend and, eventually, Jesus' girlfriend despite initial negative response from Mariana, who was against her best friend and brother being together. Her parents and herself are illegal immagrants of United States of America, something that Lexi is initially unaware of.
Jesus and Lexi, shortly after entering a relationship, soon have sex for the first time, which is unprotected as well as her first time. Due to not using protection, Lexi begins to fear the possibility of pregnancy. Lexi takes the emergency control pill, preventing pregnancy from happening. After Mariana tells Lexi's deeply religious parents about her becoming sexually active with Jesus, they soon become more strict with her, which results in her running away. Her parents soon decide to return to their home town Honduras because of her increasingly rebellious behavior. However, they do not tell her this, with the cover story being they are visiting a sick relative.
Series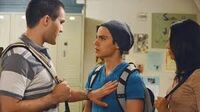 Lexi is shown at school walking with Mariana when Jesus comes and grabs her bag. She then chases him and calling him an idiot. Later on, she is seen talking with her ex-boyfriend when he calls her a bitch which leads to a fight between Jesus and him. After that, Lexi comes to the Fosters' house to hang out with Mariana and also thanks Jesus for defending her and they kiss. In the end, Jesus is seen texting Lexi. 
Lexi tells Mariana how sad she is that Jesus has to be in detention for a week, which makes Mariana annoyed. She then sees Jesus in the window and smiles at him and he smiles back. Later, at the volleyball practice, Jesus tells her if she wants to hang out on a date at the beach, and she said yes. When Lexi is waiting for him, Jesus never showed because he thinks that what they're doing is wrong. This leads them into a fight. Soon after Lexi sees Jesus in detention. Lexi was seen in the bathroom applying lipstick when Jesus enters and kisses her.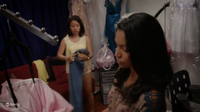 Lexi is seen with Mariana and Lena at the gown shop and Mariana is trying on a pink gown. Lexi and Mariana then ask Lena if she could bejewel the top of the dress, and Lena says yes. Then the worker asks something in Spanish and Lexi helps translate. After that, Lexi and Mariana are seen talking to each other in the dressing room. At the Fosters home, Mariana asks if Lexi could stay for dinner and Lexi and Jesus are smiling at each other. After dinner, Lexi, Mariana, and Callie are in Mariana's room and Lexi and Mariana are
putting stuff in the gift bags. Then, Jesus passes by Mariana's room and they glance romantically at each other. Lexi makes an excuse to go to the bathroom and then she is seen making out with Jesus in the bathroom. She tells him that they should tell Mariana about them but Jesus says to tell her after the party then they kiss. At the quinceanera, Lexi walks into the courtroom with Brandon but waltz with Sam. Mariana then says to Lexi "I have nothing to say to you" and walks away. Lexi and Jesus are then seen talking and he asks her to stay because it was also his birthday. As everyone is watching the slideshow, there are some pictures of Lexi and Mariana and Mariana smiles at Lexi. In the end, Lexi and Jesus dance.
Lexi and Jesus land themselves in a predicament when they end up having unprotected sex. The next morning, Jesus asks Lexi if she is okay, and she responds by telling him that she is afraid she'll get pregnant. Jesus goes to the pharmacy to get her the morning after pill. He soon finds out he is not able to buy it because he isn't old enough. He then asks a woman at the pharmacy to get it for him. She helps him out and she is giving the pill to him when Stef walks out of the pharmacy and sees them.  The moms argue about whether or not to give her the pill.
In the end, Stef decides to give her the pill, without Lena's knowledge, and talks to her. The next day at school, Lexi comes in to talk to Lena. She says she is sorry if she disappointed them and thanks her for the pill. Later, Jesus and Lexi are walking on the beach together and they agree to take a break.
After Lexi and her parents have dinner with Jesus and his parents and a drunk, selfish Mariana tells Lexi's parents they had sex and she tries justify her selfish actions the next day. Mariana may have helped after Jesus called her out in front of the school about her self-centered behavior, but she didn't apologize for being a terrible friend and sister.
The Fallout Lexi runs away from home, after her parents try to send her to a boarding school in Texas, because she and Jesus had sex. She makes up with Mariana and along with Jesus and head back home, after finding out that she's undocumented, along with her parents. She tells her parents she is not going to boarding school, and she will call immigration herself if they send her.
Clean Jesus was playing volleyball when Lexi approached him and yelled at him for avoiding her. Jesus and Lexi were fighting, Lexi was upset that she isn't a legal citizen and Jesus tried to comfort her. Inside the school Callie again tried to approach Wyatt in the hall. Callie tried to get Wyatt to see movie with her but he turned her down saying he had a thing. Afterward Jesus went to Ana's house and asked her boyfriend if she was home. At the house Gretchen was recalling time with Lena to Mariana. Mariana let it slip that her mothers weren't married Mariana worried about Jesus. During the conversation Lexi texted Mariana asking where Jesus was, and she then called Jesus who didn't answer.
I Do Jesus and Lexi are in his room making out. Lexi brings up sex, but Jesus doesn't want to do it. Lexi then leaves upset. Lexi is seen after class with Mariana. She tells her that she's moving to Honduras. She makes Mariana promise her not tell Jesus. Before the wedding, he tells her that he has knowledge that she is moving. He promises her that he'll never forget her. They later dance at the wedding.
The Honeymoon Jesus enters Mariana's room while her and Lexi are working on their English assignment. He asks for time alone with his girlfriend, but Lexi lets him go after feeling she is letting her best friend down. She tells her that it is complicated when you are in love, and that she will understand once she has a boyfriend. Mariana is left angered by this. A picnic has been arranged for Jesus and Lexi. Mariana and Lexi were discussing about Lexi leaving which saddened of both of them. Lexi tells him that her family including her aren't coming back from Honduras. Jesus is shocked by this. Lexi's father was fired from his job after it was revealed that he was an illegal immigrant. She tells him that she doesn't want him waiting for her. He tells her that he will wait for her, and that he loves her. They kiss after his confession.
Padre Lexi meets Emma over the computer.
Escapes and Reversals Lexi was planning to surprise Jesus in person. The whole family kept Lexi's visit a secret thinking Jesus would be happy to have his long distance girl suddenly within distance. And it's not their fault that they didn't know about Emma. To them Emma has only ever been Jesus's friend and teammate – nothing more. She was actually on her way to becoming more than just his friend though.
So Lexi's visit turned out to be a surprise for her as well. Jesus only had seconds to warn her that his girlfriend had returned before Lexi introduced herself to Emma at school. Emma was caught off guard and accidently inured her finger with the simplest task of trying to close her locker. Lexi was so proud of Jesus and she wanted to take a picture of him and send it but she couldn't. Her inbox was too full. She checked to see what she could delete and found Jesus's message waiting for her. He though he had deleted off her phone when in fact he didn't. So she read his breakup email.
Lexi couldn't pretend that everything was fine though. She ended up lying to him to protect her feelings. She told Jesus that she had kissed someone else and that she needed time for herself. Instead of him breaking up with her; Lexi broke up with him.
Appearances (15/64)
| | |
| --- | --- |
| Season 1 (11/21) | Season 3 (4/20) |
Relationships
First Relationship:

Start Up: Hostile Acts (1x03)
Broke Up: Escapes and Reversals (1x18)

Reason: Lexi found Jesus' deleted email with his original plan to break up with her. After finding the email, she lied to Jesus by claiming she kissed a boy in Honduras, ending their relationship herself.
Main article: Lexus
Jesus and Lexi have known each other since grade school since she was Mariana's best friend. They started their relationship in Consequently suffering many patches throughout their continuing relationship. Lexi is due to leave to Honduras which Jesus has no knowledge of it. A picnic has been arranged for Jesus and Lexi. Mariana and Lexi were discussing about Lexi leaving which saddened of both of them.
Lexi tells Jesus that her family, including herself, aren't coming back from Honduras. Jesus is shocked by this. Lexi's father was fired from his job after it was revealed that he was an illegal immigrant. She tells him that she doesn't want him waiting for her. He tells her that he will wait for her and that he loves her. They kiss after his confession. They break up in Escapes and Reversals when Lexi finds out about Jesus wanting to break up with her through a deleted email. 
Trivia
She and Mariana are childhood best friends. However, when she found out about Lexi and Jesus' relationship in Quinceanera when overhearing them discussing it, this nearly broke their friendship. This being due to Mariana not being comfortable with it.
Lexi lost her virginity to Jesus in The Morning After.
She and her parents are illegal immigrants. She has been unaware of this for all of her childhood until learning about it following her running away.
Gallery
Click here to Lexi's gallery.
Quotes
Click here to see Lexi's quotations.
Trivia