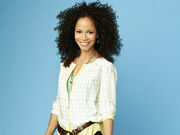 This page is about
Lena Adam's quotations
during her episode appearances.
Season One
Edit
Brandon: "Oh, who's this?"
Lena: "This is Callie. She's gonna be staying with us for a while."
Brandon: "Okay, staying with us. Nice to meet you."
Callie: "What about him? (referring to Brandon)"
Lena: "What?"
Callie: "Where did you get him?"
Lena: "Brandon is my partner, Stef's, biological son from her previous marriage."
(Stef enters)
Lena: "Hi, honey."
Stef: "(to Lena) Hi! (to her sons and daughter) Hi babies!"
Jesus: "(to Callie) What? No one told you our mom's a cop?"
Mariana: "See, this is why no boys ever wanna come over."
Stef: "That's how it should be."
Callie: "So you're dykes."
Jesus: "They prefer the term people, but yeah, they're gay."
Callie: "And he's the real son? (pointing to Brandon)"
Stef: "(laughs) ...And who's this?"
− Brandon and Stef meeting Callie.
Jude: "So are you and Stef married?
Lena: "Well not exactly. Not legally, no. We're married in our hearts, I guess."
Jude: "That's basically the same thing right?"
Lena: "Basically, yeah."
-Lena tells Jude about her "marriage" with Stef.
− Mariana inviting Callie to be part of her court at her quinceañera.
Edit
Mariana: "So, Callie. You know my friend Kelsey?"
Callie: "Oh, the one who lied and said I sold her drugs?"
Mariana: "Yeah, well... she's in rehab."
Callie: "I'm sorry to hear that."
Mariana: "So, do you want to take her place in my court?"
Stef: "I think that is a great idea, Mariana. Um... Wha-what do you think Callie?"
Callie: "Sure, I guess."
Lena: "Great, we just have to hurry and get your gown fitted before Saturday."
Callie: "I have to wear a gown?"
Jude: (laughs)
Jenna: "That's the nicest thing she said to me in I don't know how long. We're going through a rough path."
Lena: "Well we all go through those." Jenna: Yea, do they usually last two years?"
Lena: "Is everything okay?"
Jenna: "We're talking about splitting up."
Lena: "What? No that's impossible, you can't do that. You're Kelly and Jenna"
Jenna: "You know, after twenty years, you start thinking that its forever and nothing can pull you apart."
Lena: "What changed?"
Jenna: "I don't know, we did I guess. You know, you're so focused on the kids, work and paying the bills that you stop paying attention to each other. All of the things you used to do to each other, the little stuff, day by day you start forgetting to do those things and you think, "oh, it doesn't matter." Then the next day, you stop caring because you forgot in the first place and before long, you realize that all you have in common is the routine."
– Jenna talking to Lena about her marriage.
Lena: "Oh my god!"
Stef: "What?"
Lena: "I meant to pick up some guacamole from that place you love."
Stef: "Oh its so good too."
Lena: "Sorry, Mariana called me, then Jude needed me for something and I just forgot."
Stef: "Remember when you used to love me?"
Lena: "Don't do that it makes me feel terrible."
Stef: "I guess, salsa will be fine, I just."
– Stef and Lena talking about guacamole.
DNA doesn't make a family. Love does
Ad blocker interference detected!
Wikia is a free-to-use site that makes money from advertising. We have a modified experience for viewers using ad blockers

Wikia is not accessible if you've made further modifications. Remove the custom ad blocker rule(s) and the page will load as expected.