This page is about 
Kelsey's quotations 
during her episode appearances.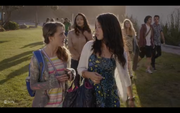 Jesus: Hey have you seen Lexi.
Kelsey: Sorry, babe.
Jesus: Have you herad from her, anything.(Bell rings for class)
Kelsey: Oh, better get to class before you get someone else pregnant.
Jesus: I didn't... Forget it.

- Jesus asking Kelsey if she has seen Lexi.
Ad blocker interference detected!
Wikia is a free-to-use site that makes money from advertising. We have a modified experience for viewers using ad blockers

Wikia is not accessible if you've made further modifications. Remove the custom ad blocker rule(s) and the page will load as expected.