Justify the Means is the nineteenth episode in Season 2 of The Fosters. This episode aired on March 9, 2015. It is the fortieth episode overall.
Stef confides in Lena and Callie about a plan that will make it possible for the Adams Fosters to adopt Callie, but she's not being fully honest about some of the steps she's taken to put the plan in motion. In turn, Lena hasn't been completely truthful with Stef about her conflicting emotions over expanding their family. Meanwhile, Brandon has an opportunity to pursue his dream of being a classical musician, but it could come at a price. Jude breaks the rules in order to be with Connor and faces dire consequences.
Main Cast
Edit
Recurring Guest
Edit
Michael Daniel Cassady as Eric Humble
Matt Knudsen as Taylor's Dad
Deborah Lacey as Marie
Jack DePew as Jasper
Dan Schoff as Judge Ringer
Sonia Jackson as Substitute Teacher
Allison Buczkowski as Ivy
The episode title is referring to the dubious actions Stef takes in order for Stef and Lena to adopt Callie.
Callie and Brandon find out about Jesus's interview with the scout about attending Flintwood on a wrestling scholarship.
This episode was on the birthday of Cierra Ramirez.
Featured Music
Edit
Main Article: Music Guide
Shake Ya Body by Cut One & Meg Cotton (Callie and Emma along with the other girls dance Tia dance routine at the dance audition.)
Travel With Me by Misun (Callie brushes her teeth when Brandon comes in to brush his, they talk about the band when Mariana and Jesus come to brush their teeth, Mariana stops Jude from coming in then updates the others on life.)
Sit With Me Tonight by Garrison Starr (Stef and Lena have a heartfelt conversation about Marianna and the baby and about talking to each other before they tell others outside the family then share a kiss; Lena spots Timothy in his class.)
Rolling by CALLmeKAT (Jude arrives to meet Connor, Daria & Taylor for there TPing rendezvous then they TP and string Brooklyn's house; Lena comes down stares and researches cribs online when she finds Stef's 'Robert' file.)
Follow Me by RICTOR (Jude, Connor, Daria and Taylor "break into" Taylor's house then pass around a bottle of whiskey when Taylor's dad comes down the stairs and asks whose there, as they try to leave he shoots one of them.)
Promo and Sneak Peeks
Edit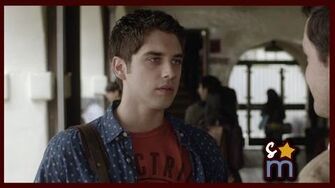 Ad blocker interference detected!
Wikia is a free-to-use site that makes money from advertising. We have a modified experience for viewers using ad blockers

Wikia is not accessible if you've made further modifications. Remove the custom ad blocker rule(s) and the page will load as expected.