"
I never thought it would happen, but I'm not lost anymore. I found my "forever family".
"
Jude Adams Foster (born Jude Jacob) is one of the main protagonists in The Fosters, and the most recent kid to come into the home of Stef Adams Foster and Lena Adams Foster. He is the 17-year-old, maternal younger half-brother of Callie Adams Foster and the son of Donald Jacob and his deceased wife, Colleen Jacob. He is also the adopted son of Stef Adams Foster and Lena Adams Foster, as well as the adopted brother of Brandon Foster, Jesus Adams Foster and Mariana Adams Foster and the younger cross-brother of Sophia Quinn.
Jude has suffered through hard times - having lost his mother to a drunk driving accident and his father to prison before being sent, alongside his elder sister Callie, into the foster system where he would be bounced through various foster homes. Despite his rough upbringing, he always managed to have a good conscience and a bright outlook on life. It wasn't until he met the Fosters that he finally found his "forever home".
Jude is portrayed by Hayden Byerly.
Biography
Jude is Callie's younger brother, whom she rescued from an abusive foster father's house in the pilot episode. Jude and Callie do not learn of their half-sibling status until the season 1 finale, having always believed they were full siblings.
When Callie was ten and Jude was six, their mother passed away in a car accident that their father's drunk driving was responsible for. Consequently, their father went to prison for manslaughter since he had also killed other people. As a result of having no relatives to care for them, Callie and Jude were placed into the foster care system for six years. Their time in the system is implied to be rough and abusive. After they entered the foster care system, Callie took Jude under her wing and became completely focused on protecting him, becoming somewhat of a parental figure to him.
Despite often moving house to house while in foster care, which proved to be hard on him and his sister, Jude is a rather quiet and often peaceful child. While usually not being in a particular foster home for long, even becoming accustomed to this pattern, he always enjoyed the good homes he sometimes did get to live in. Callie, however, would often encourage him not to get too attached to the good homes.
While it has been stated that Jude has been abused by at least one foster parent, which Callie described as "getting the crap beaten out of him", he hasn't let such treatment hinder him and is always a pleasant person. Whether he was abused by other foster parents and the extent of his abuse in the system is left unknown and mostly unmentioned.
After being taken in by the Adams-Foster family, Jude finally finds his "forever home", and is eventually adopted even though Callie had trouble getting adopted herself.
Physical appearance
Jude is a young boy with short dark brown hair and brown eyes. Jude's appearance changes over the course of the series as he develops into an adolescent. In season 1, he is a somewhat short young boy who has yet to really physically develop. However, from season 2 to season 3, he has considerably grown to where he is at least a foot taller - almost taller than Callie - and his voice has deepened significantly. Also, his cheeks have become more slender.
The clothing Jude wears is usually casual, mostly regular jeans and T-shirts that consist of a similar design. However, when it comes to formal events (such as dances and events like his adoption or Father's Day brunch), he always dresses in a suit or in a more proper manner.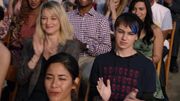 During a flash-forward sequence, it was shown that Jude went through an emo-phase in his later teen years. He dyed a portion of his hair blue and cut it to appear shaggier so it would hang further down his forehead. On the back half of his head, he wore a black wool beanie. He also started applying eyeliner, specifically on his upper-lids that created a shadow-like effect. In addition, he pierced his lowered lip on the right side and started wearing rings and black studded bracelets. His clothing was also significantly darker and heavier, wearing long sleeves and a hoodie with red skulls on it.
Series
Appearances (83/104)
Season 1 (18/21)

Season 2 (17/21)

Season 3 (14/20)

Season 4 (16/20)

Season 5 (18/22)
Relationships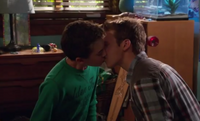 Main article: Jonnor
Connor and Jude are classmates and best friends. The two met in math class and occasionally talk while in class. For most of the series, Connor is Jude's only real friend in school.
The two officially form their bond as close friends when Connor defends him when Jude finds himself bullied for wearing blue nail polish. In defense of Jude, Connor shows up proudly wearing nail polish as well. Ever since then, the two maintain a steady and strong friendship. However, in season 2, Connor's homophobic dad proves to be against their friendship due speculating that Jude may be gay. Although wanting to be friends, Connor is unable to stand up to his emotionally abusive dad. Despite pressure from his father, the two manage to continue their friendship.
In season 2b, Connor and Jude's relationship grows from friendship to romance when it is told that they did something "wrong" while in their tent on a school camping trip - which is later revealed to have been a kiss. Their relationship faces a stump when Connor gets a girlfriend in order to please his father. Despite this, he begins to flirt with Jude before Jude finally demands to know where their relationship stands, resulting in Connor kissing him again. Following Connor finally coming out to his dad and being banned from seeing Jude because he came out, Connor and Jude are finally reunited. It is later said that Jude and Connor are officially dating.
In season 3a, Jude has trouble coming out to everyone and refuses to label himself as gay despite being in a relationship with Connor, much to the latter's confusion and slight discomfort. However, in More Than Words, after a talk with Cole, Jude sees how labels can be a good thing and finally comes to accept and admit he is gay.
In Lucky, while at Connor's house, Adam doesn't take to walking in on Jude and Connor making out too well. As a result, Connor considers moving to Los Angeles to live with his mother. After Callie's speech to the judge during her adoption about the importance of being with a family who truly loves and makes her feel safe, Jude tells Connor to go live with his mother if it will make him happy - promising they can maintain a long-distance relationship. Jude then admits he loves Connor, and Connor returns the sentiment. The two then hug.
In First Impressions, Jude has a conversation with Connor while in Connor's room, telling Connor that nothing will be the same without him.
In Sixteen, Jesus intercepts a text message on Jude's phone, and notices that Connor has sexted Jude. Jude decides against going to Connor's homecoming, as he is unsure of the picture's meaning. Later, Jude and Connor talk online, and Connor tells Jude that they won their game, but that he wished Jude was there to share it with him. Jude says that he didn't go because he didn't understand what the picture meant, after originally denying that his (Connor's) sending the picture prevented him from going. Jude then says that they were the only guys in their grade who were gay, and vocalizes that he believes this is the reason for them getting together. Connor quickly says that they were friends first, and Jude tells him that he doesn't feel like Connor is his friend anymore, because of his signing up for football and other things, which prevent him from coming to see him on weekends due to games. Connor then sadly asks Jude if he wants to break up, but Jude doesn't answer.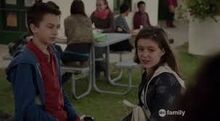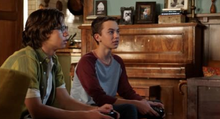 Main Article: Joah
Noah is a new friend of Jude and he is also Taylor's friend from their youth group.
Declan Called Jude his cute nerdy Sidekick in this gaming deal however Jude said he wouldn't do it without Taylor, Declan then says I'll get them to let her in "I'm used to getting what I want" this might mean he likes Jude sexually and wants to make him his boyfriend despite the fact that Jude has a boyfriend.
Quotes
Click here to see Jude's quotations.
Trivia
Gallery
Click here to see Jude's gallery.
References
↑