"
There's nothing anyone can say to get me to change the way I feel about my family.
"
Jesus Foster is the son of Stef Adams Foster and Lena Adams Foster, fraternal twin brother of Mariana Foster, and the brother of Brandon Foster.
Biography
Jesus, along with Mariana, were born on May 17th, 1998. Jesus's and Mariana's birth mother, Ana, abandoned them for another man. Ultimately, they were put into the foster system and adopted by Stef and Lena. Jesus and Mariana are very close. Even when they disagree, they still love each other. Jesus and Mariana began living with Stef and Lena when they were 6 years old. They were officially adopted by Stef and Lena when they were 11 years old.
Physical Appearance 
Jesus has similar traits to his twin sister, Mariana, like, brown eyes, light skin, wavy/curly hair. He is a bit taller than Mariana. He is pretty well built due to his work out.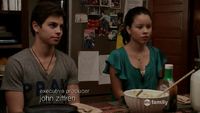 Jesus meets Callie at dinner with everyone else, where he tells Callie that Stef and Lena are gay and that they prefer the term "people". After Callie goes into the bathroom, Stef tells Jesus and Mariana that she was thinking about setting up a meeting with their birth mom. Later that evening, Jesus and Mariana are seen in Mariana's bedroom talking about the possibility of them meeting their birth mom. Stef barges in and tells them not to talk in Spanish, and that they are just as much their children as Brandon is.
The next day, Jesus asks Mariana if she has seen his pills because most of them are gone. Jesus and Mariana get into a little argument and Jesus told her that their birth mom is a loser. Later that day, Jesus and Mariana are seen sitting outside talking on the steps waiting for Stef, Lena, and Brandon to get home. Later he finds out about Mariana selling his pills.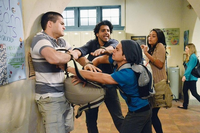 He gHe gets into a fight with Lexi's boyfriend after he calls her a bitch. He is sent to Lena's office where he lies to her about taking his pills when she asks. Later on, Lexi thanks Jesus and they kiss. Although none of them tell Mariana, and keep it a secret from her.
Kelsey tells Lena that Callie gave her the pills. When Mariana finds out she goes down to tell Stef and Lena that she was the one who took the pills and sold them, but Jesus takes the blame for her. It was discovered in this episode that Jesus has ADHD.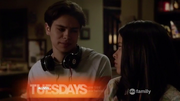 Jesus and Lexi are hiding their relationship from Mariana. Jesus asks Lexi to meet him at the beach, but he stood her up because Mariana doesn't like the idea of her brother and her best friend dating. However, he couldn't stay away from Lexi, so he followed her in the restroom and they had a make out session.
He didn't want Brandon to leave, because he didn't want to be in a house with only the girls and Jude. He then told Brandon that Mariana was one the was selling his pills and that he covered for her.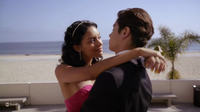 session in the bathroom and are almost caught by Jude. Mariana finds out about Jesus and Lexi's relationship during her party and he says Mariana is selfish about not dancing with her moms and a lot of other stuff. Stuck in between, Lexi does not defend her best friend, and Mariana is unhappy about it.
Jesus and Mariana dance the group dance along with Brandon, Callie, Sam and Lexi. Mariana tells him she knows about him and Lexi. Lexi tries to talk to Mariana in the bathroom but gets the cold shoulder. During the slideshow, it shows some pictures of Mariana and Lexi. When Lexi is bound to leave due to Mariana no longer wanting her, Jesus reminds her that it's his birthday as well and tells her that she can't leave without dancing with him. It ends with a kiss.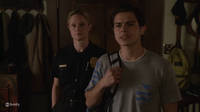 Jesus and Lexi had unprotected sex. Lexi is afraid of telling her parents as they are strictly religious so Jesus decides to buy the morning after pill. Due to the fact that he is under-aged, he asks a woman at the pharmacy to buy it for him. Coincidentally, Stef was at the same (getting Jesus' pills) pharmacy and catches Jesus outside. He goes home and tells Lena about the unprotected sex. Later on, Jesus and Lexi are seen at the beach and they agree to take a break.
At the beginning of the episode, Jesus is worried about Lexi and her parents coming over. Jesus asks his moms about going to the retreat with Lexi's parents. They tell him they'll think about it. Later that day, Lexi and her parents come and they are seen having dinner. It goes surprisingly well, until drunk Mariana tells Lexi's parents they are having sex. The episode ends with all of them having shocked looks.
The next day after the dinner, it began with the twins arguing. Jesus threatened Mariana by revealing that she has been in contact with their biological mother to the moms. Stef intervened before the argument escalated. Jesus looks for Lexi around school since she has not shown up. At some point, Jesus went to Lexi's house and they spoke. Jesus revealed to Mariana, in a hatred way, that Lexi is being pulled out of school and is being sent to a boarding school in Texas. Jesus is asked about Lexi due to her running away from her home. As Mariana gets back home from an outing with Lexi, Jesus explains to her about the whole situation. They decide to go back to the abandoned house (aka Wyatt's old home). They explain to Lexi that she and her family are undocumented. They return her back to the Fosters. They are later talking about Lexi's actions of threatening her parents.
When Mariana suspiciously goes to answer a phone call, Jesus follows and asks her who it was. He finds out it was Ana. Later on, they go to tell Ana to stop bothering them. When they get to Ana's current house, Jesus is caught off guard by Ana's hug. She tells them she desperately needs money to escape her abusive boyfriend. Jesus and Mariana tell Ana they don't have anymore money. Ana's boyfriend comes not long after and states he needs to go to the store. By the looks of it, it is clear Jesus doesn't like or trust him. During that day, Jesus leaves and visits Ana once again. Mariana suspects that Jesus is at Ana's when she finds out the truth. Mariana tells the moms about the whole situation and Jesus's whereabouts. This causes Stef to go to the house along with Mike equiped with a gun.
Jesus was in fact with Ana, and not at Ana's house. He took her to a facility care center. When Ana asks Jesus for money, he gives her all he had on him which was inneficient. Lena calls him, worried, and he says he is not in Ana's home but downtown. Lena tells him to stay where he is. He waits until they pick him up. While in the car, Lena receives a call from Mike about Stef's shooting. While at the hospital, Brandon yells at Jesus and Mariana for leading the situation about Ana to now, but he is brushed off by Callie. The next day at home, while Mariana and Jesus are organizing their old stuff, Brandon apologizes. They laugh and joke around. When they return to the hospital, they are allowed to see Stef.
Jesus and Lexi are seen making out. Lexi brings up the subject of sex. Lexi gets upset when Jesus doesn't want to do it. At the wedding, Jesus pulled Lexi away. Jesus tells her that he has knowledge that she's moving away. He tells her that he will never forget her. Jesus and Lexi dance at the wedding.
Jesus helped Sharon clean up for the wedding. He is unaware of Lexi leaving for school. He and Mariana argue over who will spend time with Lexi. Jesus enters Mariana's room while her and Lexi are working on their English assignment. He asks for time alone with his girlfriend, but Lexi lets him go after feeling she is letting her best friend down. Jesus receives a note on the front door of the home. He follows as directed, and he is found with a picnic. Mariana and Lexi were discussing about Lexi leaving which saddened of both of them. Lexi tells him that her family including her aren't coming back from Honduras. Jesus is shocked by this. Lexi's father was fired from his job after it was revealed that he was an illegal immigrant. She tells him that she doesn't want him waiting for her. He tells her that he will wait for her, and that he loves her. They kiss after his confession.
To be revealed after June 16, 2014.
Appearances (20/21)
Season 1
Relationships
Main article: Lexus
Jesus and Lexi have known each other since grade school since she was Mariana's best friend. They started their relationship in Consequently suffering many patches throughout of their continuing relationship. They are currently broken up due to Lexi finding out that Jesus was going to dump her for Emma, and her ending up dumping him and going back to The Honduras.
Main article: Emmus
Jesus and Emma met whilst on the wrestling team together, while Jesus was still in a relationship with Lexi he and Emma kissed. However when Lexi came back from The Honduras Jesus changed his mind about liking Emma believing he loved Lexi. However when Lexi told Jesus that she kissed a boy in The Honduras (which was a lie) and went back to The Honduras, Jesus sparked an interest in Emma once again.
Trivia
Jesus has ADHD.
He and Lexi have kissed 7 times onscreen.
He loves to skateboard and was given a new skateboard for his birthday.
He lost his virginity to Lexi in The Morning After.
He met Ana Gutierrez for the first time in Clean.
He is on the wrestling team.
He took the blame for Mariana about who sold his pills to Kelsey.
Jesus used to take pills to control his anger, but recently started to take wrestling to get off taking them
Gallery
Click here to see Jesus's gallery.