Jemma

General Information
Pairing:
Jesus Adams Foster and Emma
Kind of Pairing:
Friendship/Romantic
Status:
Dating
Other Names:
Emmus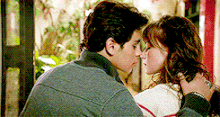 Jemma (Emma/Jesus) is the name of the romantic/friendly relationship between Jesus Adams Foster and Emma. They were both on the wrestling team at Anchor Beach.
Jesus joins the school wrestling team as a way to handle his ADHD. At his first practice he is brought down by the only girl on the team, Emma.
Jesus and Emma are both in the gym for wrestling and cheer-leading respectively, Jesus tries to kiss Emma but she says no kissing at practice.
At Jesus's house, Jesus and Emma are studying together, Jesus lies to Emma about his plans for Saturday, saying he has a family thing. In reality, he's really hanging out with the guys. Emma says they should study more tonight and Jesus agrees.
Jesus and Emma kiss.
Later, they are studying again, Jesus admits he lied before about what hes doing on Saturday and tells her hes hanging with the guys.
Jesus is happy she's not mad at him.
Jesus and Emma hold hands, Emma tells Jesus that everything changed since they started dating and now shes lost all her friends from the wrestling team and it just sucks.
At school, Jesus tells Emma he quit the wrestling team for her and Emma says she's not going to thank him "for giving up something you loved to make me feel better" and calls him a dumb ass and says "its not his job to take care of her and if I'm unhappy that's on me and its my job to fix it not yours."
Emma says shes going to talk to the guys and hes not quitting the team either so hes coming with her to sort this out now.
Trust
At school, Emma watches Jesus stand up for Mariana.
At school, Emma tells Jesus she was impressed that he stood up for his sister.
Emma and Jesus kiss.
Emma and Jesus agree to hang out after school.
Emma tells Jesus she wants to be friends with benefits and he happily agrees.
They kiss again.
In a car, they make-out until Emma grabs for Jesus's belt and he tells her, he dosen't have a condom but Emma tells him she is on the pill.
Emma asks who hes been with since her? Jesus says Hayley and some others.
Jesus asks who she's been with since him? Emma says Bobby and some others.
Emma tells Jesus to get tested for STI's.
At school, Jesus and Emma are sitting next to each other at the assembly.
Outside the STI clinic, Jesus and Emma are surprised by how many flyers there are for all the STI's they can get.
Jesus and Emma are both happy neither have an STI after just being tested.
Jesus dosen't want them to have sex with other people and Emma agrees they are exculsive friends with benefits but they aren't dating.
Emma forgives him for breaking her heart and they get back together and start dating again.
First Relationship

Start Up: Adoption Day (1x21)
Broke Up: Take Me Out (2x02)
Reason: Jesus couldn't handle Emma's independent spirit and felt as though she was too bossy.
T
he image gallery for Jesus and Emma may be viewed here.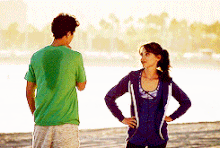 Ad blocker interference detected!
Wikia is a free-to-use site that makes money from advertising. We have a modified experience for viewers using ad blockers

Wikia is not accessible if you've made further modifications. Remove the custom ad blocker rule(s) and the page will load as expected.