Idyllwild
Season 3, Episode 9

First Aired
August 10, 2015
Viewers (millions)
1.07
Writer(s)
Joanna Johnson
Director(s)
Joanna Johnson
Episode Guide
previous
"Daughters"
next
"Lucky"
Idyllwild is the ninth episode in Season 3 of The Fosters. It aired on August 10th, 2015. It is the fifty-first episode overall.
The family heads to Idyllwild for Brandon's music competition where long-held feelings are revealed and life-changing secrets are unveiled. Callie finds herself in danger of being hurt when she questions Carmen and Brooke's motives directly. Mike witnesses an unexpected connection that may support Stef's theory for finding the hit-and-run driver.
Main Cast
Edit
Recurring Guest
Edit
Alessandra Torresani as Brooke
Mark Daugherty as Jin Chang
Chris Warren as Ty Hensdale
Suzanne Cryer as Jenna Paul
Fran Bennett as Iris
Angela E. Gibbs as Michelle Waters
David Douglas as Chris
Keli Daniels as Teri Sanderson
Dylan John Seaton as Joe Olsen
Wayne Lopez as Wade
Jearnest Corchado as Dee
Fenessa Pineda as Rhiana
Cynthia Rose Hall as Nurse
Ana Dela Cruz as Cynthia
Resources
Edit
http://abcfamily.go.com/shows/the-fosters/episode-guide/season-03/09-idyllwild
Brandon wins the Idyllwild competition and is selected to play at Disney Hall. 
Stef finds out about Lena and Monte's kiss.
Mariana admits to Mat that she lost her virginity to someone else. 
Carmen admits that Brooke actually did punch her. However, Brooke is blackmailing her by threatening to reveal she took drugs; Therefore, she is unable to apply to the army due to drug testing.
Callie secretly records Carmen admitting to lying about Rita assaulting her and sends it to Rita despite Carmen's threat of ruining Callie's chances of adoption by the Adams-Fosters by telling Callie's social worker about her secretly kissing Brandon while on probation in season 2.
Callie and Brandon strongly believe Callie won't be adopted
Brallie (Brandon and Callie) has sex at the end of the episode
It is revealed that Monte and Jenna have had sex.
It is revealed that Mat is also a virgin
Promo and Sneak Peeks
Edit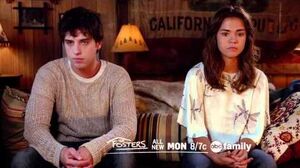 Ad blocker interference detected!
Wikia is a free-to-use site that makes money from advertising. We have a modified experience for viewers using ad blockers

Wikia is not accessible if you've made further modifications. Remove the custom ad blocker rule(s) and the page will load as expected.