Grace Mullen

General Information
Gender:
Female
Hair Color:
Dark Brown
Eye Color:
Black
Occupation(s):
Works with children with autism
Status:
Deceased (Cancer)
Family & Friends
Family:
Henry Mullen (father)
Susan Mullen (mother)
Friends:
Brandon Foster
Relationships
Brandon Foster (ex-boyfriend)
Personal Information
Interests:
Music
Production Information
First appearance:
Doors and Windows
Last appearance:
Many Roads
Portrayer:
Meg DeLacy
Grace Mullen was a recurring character on the Freeform series, The Fosters. Grace was a volunteer at the hospital who helps kids with autism by communicating with them through music. Recently, Grace's leukemia returned, but her treatment failed. She made her first appearance in Doors and Windows.
Grace is portrayed by Meg DeLacy.
Biography
Personality
Series
Grace dies from leukemia with her parents at her side and Brandon singing and playing guitar. She is then seen in Brandon's mind singing with him at Coachella, when he pictures himself what it would have been if she survived.
Appearances (20/101)
Season 4 (3/20)

Season 5 (17/19)
Relationships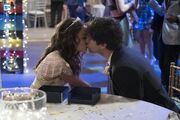 Brandon first met Grace in Doors and Windows at the hospital, when he finds Grace in a class with kids with autism. Brandon asks if his brother, Jesus, can join his class. He later comes by to learn more and helps Grace out with a class. In The Long Haul, they both were at the wedding for Sharon and Will, and one of Grace's scary things to do for the day was kiss Brandon.
Grace's gene therapy didn't work and she decided not to take another treatment, leading to her death the day before Brandon's graduation.
In Prom, Brandon finds out from Grace's mother, Susan, that Grace's leukemia had returned. Knowing this, Brandon wanted Grace to have her best night at prom. Afterwards, Grace is in the hospital and started her chemotherapy. In Mother's Day, she makes Brandon her proxy instead of her mom because Grace knows her mom might make the wrong decision.
Trivia
In Prom, it is revealed that Grace has leukemia and has to go back home with her mother to undergo chemotherapy.
Grace reveals to Brandon in Sanctuary that she found out she had leukemia when she was nine.
Grace first appears in Doors and Windows.
Gallery
Quotes
"I try to do one scary thing a day."