"
Nothing. I just don't want to be perceived that way. I have more to offer than just my ass, you know.
"
Emma Kurtzman is a recurring character, and Jesus' girlfriend in The Fosters. She was first introduced in House and Home. She is on the wrestling team, a position she fought for, and had joined Mariana Foster's dance team, until she quit because of her wrestling team. She is known to be independent, a feminist, and feisty. 
She is portrayed by Amanda Leighton. 
Physical Appearance
Emma has medium-length, light brown hair, and light brown eyes. She rarely wears makeup, unless attending a formal event. In terms of clothing, she usually wears casual clothes although sometimes wears dresses when the occasion calls for one. She is physically attractive and beautiful.
Series
Appearances (44/91)
Season 1 (9/21)

Season 2 (10/21)

Season 3 (2/20)

Season 4 (16/20)

Season 5 (7/9)
Relationships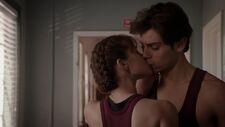 First Relationship:

Start Up: Adoption Day (1x21)
Break Up: Take Me Out (2x02)

Reason: Jesus couldn't handle her independent personality and felt that she was too bossy.
Second Relationship:

Start Up: Highs & Lows (4x07)
Break Up: Emma treated Jesus like a Charity case and mislead him by putting on the engagement ring he got for her into beliving they were engaged.

Main article: Emmus
Jesus and Emma met whilst on the wrestling team together. While Jesus was still in a relationship with Lexi, he and Emma kissed. Emma refused to be the other girl and told him to break up with Lexi if they were going to be together. However when Lexi came back from Honduras, Jesus changed his mind about liking Emma believing that he loved Lexi. However when Lexi told Jesus that she kissed a boy in The Honduras (which was a lie) and went back to Honduras, Jesus sparked an interest in Emma once again. However, their relationship does not last. In Highs & Lows Jesus and Emma get back together after Emma decides to give Jesus another chance.
Trivia
Emma is the most frequently appearing recurring character in the show. She is only a guest character in Season 3 but also the most frequently appearing recurring character in Season 4, appearing in the same number of episodes than Jude, and in more episodes than Mike, two main characters.
She apparently fought to be on the Anchor Beach wrestling team. She later explains how she didn't want to be restricted to typical 'girl' teams and clubs, but be seen as equally qualified to do male sports. 
Her family is Jewish.
She excels in math. This is shown in Emma being both a member of STEM club, where only exceptionally high scoring students can join, and proving to be an effective algebra tutor for Jesus.
Emma found out that she was pregnant with Jesus's baby in '' Doors and Windows'' and decides to get an abortion.
Emma's last name is Kurtzman and was revealed in the episode "Too Fast, Too Furious".
Gallery
Click here to see Emma's gallery.
Quotes
"Thanks for letting me crash your funeral." -to Jesus in the episode Padre.
References
Ad blocker interference detected!
Wikia is a free-to-use site that makes money from advertising. We have a modified experience for viewers using ad blockers

Wikia is not accessible if you've made further modifications. Remove the custom ad blocker rule(s) and the page will load as expected.