"
Nothing. I just don't want to be perceived that way. I have more to offer than just my ass, you know.
"
Emma Kurtzman is a recurring character, and Jesus Adams Foster's girlfriend in The Fosters. She was first introduced in House and Home. She is on the wrestling team, a position she fought for, and had joined Mariana Adams Foster's dance team, until she quit because of her wrestling team. She is known to be independent, a feminist, and feisty. 
Emma is portrayed by Amanda Leighton. 
Biography
Physical Appearance
Emma has medium-length, light brown hair, and light brown eyes. She rarely wears makeup, unless attending a formal event. In terms of clothing, she usually wears casual clothes although sometimes wears dresses when the occasion calls for one. She is physically attractive and beautiful.
Series
Appearances (50/101)
Season 1 (9/21)

Season 2 (10/21)

Season 3 (2/20)

Season 4 (16/20)

Season 5 (12/19)
Relationships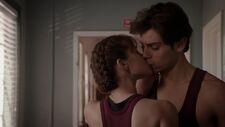 Main article: Jemma

Jesus and Emma met whilst on the wrestling team together. While Jesus was still in a relationship with Lexi, he and Emma kissed. Emma refused to be the other girl and told him to break up with Lexi if they were going to be together. However when Lexi came back from Honduras, Jesus changed his mind about liking Emma believing that he loved Lexi. However when Lexi told Jesus that she kissed a boy in The Honduras (which was a lie) and went back to Honduras, Jesus sparked an interest in Emma once again. However, their relationship does not last. In Highs & Lows Jesus and Emma get back together after Emma decides to give Jesus another chance.
Trivia
Gallery
Click here to see Emma's gallery.
Quotes
"Thanks for letting me crash your funeral." -to Jesus in the episode Padre.
References