Dirty Laundry
Season 4, Episode 18

First Aired
March 28, 2017
Viewers (millions)
0.69
Writer(s)
Megan Lynn
Wade Solomon
Director(s)
Laura Nisbet Peters
Episode Guide
previous
"Diamond in the Rough"
next
"Who Knows"
Dirty Laundry is the eighteenth episode of Season 4 of The Fosters. It is the eightieth episode overall. It aired on March 28, 2017.
As Stef works longer hours in her new position, Lena feels overwhelmed trying to keep up with the complicated lives of their five teenagers in addition to the pressures of her own job. Jude, fed up with being bullied at school, resorts to bullying tactics of his own. Callie heads to Los Angeles with Aaron (guest star Elliot Fletcher, "Shameless") to visit his parents, who are struggling with Aaron being transgender. Meanwhile Callie confronts AJ about him kissing another girl.
Main Cast
Edit
Recurring Guest
Edit
Brandon Quinn as Gabriel Duncroft
Jared Ward as Drew Turner
Stacy Edwards as Mrs. Baker
David Rees Snell as Mr. Baker
Mark Totty as Mr. Stratos
Resources
Edit
TBA
Promo and Sneak Peeks
Edit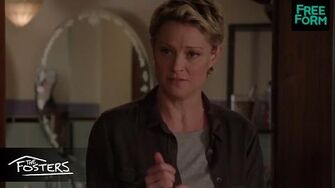 Ad blocker interference detected!
Wikia is a free-to-use site that makes money from advertising. We have a modified experience for viewers using ad blockers

Wikia is not accessible if you've made further modifications. Remove the custom ad blocker rule(s) and the page will load as expected.