David Lambert
Biographical Information
Gender:
Male
Date of birth:
November 29, 1993
Age:
23
Nationality:
American
Hometown:
Baton Rouge, LA
Professional Information
Occupation(s):
Actor
Years active:
2006-present
Official Twitter:
@dglambert
David Lambert (born November 29, 1993) is an American actor born in Baton Rouge, Louisiana. He is best known for playing Jason Landers in the Disney XD series Aaron Stone.
He portrays Brandon Foster in the ABC Family series, The Fosters.
Early Years
Edit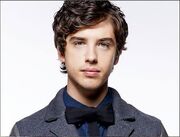 David Lambert was born in Baton Rouge, Louisiana. He was home-schooled. He has lived in England, Texas, and Taiwan but has been living in Georgia for many years. David has a younger brother. He can play the trumpet and is learning the electric guitar. He also has a very strong tenor singing voice. He has been doing theater for many years, beginning when he was cast in the play the Wizard of Oz at age 3. Theater performances include Mr. Tumnus in The Chronicles of Narnia: The Lion, the Witch, and the Wardrobe, Mr. Mayor in Seussical, Carisford in Little Princess, and Phao in The Jungle Book. He also played J.J. for one episode on Psych.
Lambert was discovered at an open casting call by agent Joy Pervis in Atlanta. After performing his monologue, he was asked to do something else. At first thought, he recited the Pledge of Allegiance, and it worked. He was in Georgia when he got the call to pack for Canada, where Aaron Stone was filmed.
Most recently, Lambert starred as Jason Landers, Charlie Landers/Aaron Stone's brother in Aaron Stone and Goose in the Disney Channel original movie Den Brother, also starring Hutch Dano. He will be on the TV show. Lambert also starred in the Hallmark Hall of Fame movie, "A Smile As Big As The Moon," which aired on January 29, 2012.
He is starring on the Jennifer Lopez produced drama, The Fosters.
Filmography
Edit
| Year | Title | Role |
| --- | --- | --- |
| 2007 | House of Payne (TV series) | Jalen |
| 2008 | Psych (TV series) | JJ |
| 2008 | Pretty/Handsome (TV movie) | Teenage Bob |
| 2009 | Aaron Stone (TV series) | Jason Landers |
| 2010 | Sons of Tucson (TV series) | Quan |
| 2010 | Den Brother (TV movie) | Danny 'Goose' Gustavo |
| 2012 | A Smile as Big as the Moon (TV movie) | Steve |
| 2012 | Longmire (TV series) | Jason Lennox |
| 2013 | The Fosters (TV series) | Brandon Foster |
| 2013 | The Lifeguard | Little Jason |
Some of his favorite movies include the "Lord of the Rings" trilogy, The Departed, Star Wars, and The Goonies.
He is half Puerto Rican.
Says his inspirations are Jim Carrey, Johnny Depp, Robert Downey Jr. and Brad Pitt.
Can speak fluent Spanish.
Owns a Shih Tzu named Jasper.

Lambert is also a highly skilled musician – proficient in trumpet, piano and electric guitar – and he writes and records his own music.
Click here to see David's gallery.
Ad blocker interference detected!
Wikia is a free-to-use site that makes money from advertising. We have a modified experience for viewers using ad blockers

Wikia is not accessible if you've made further modifications. Remove the custom ad blocker rule(s) and the page will load as expected.