"
I'm one of the lucky ones. You know, I found an amazing family, and I'm finally safe and loved, like, really, truly loved. And one of the things I've learned from my moms, from watching the way they've lived their lives, is that when you're lucky, it is your job to give something back.
"
Callie Quinn Adams Foster (born Callie Quinn Jacob) is a main character in The Fosters and the most recent teenager to come into the home of Stef Adams Foster and Lena Adams Foster. She is the older daughter of Robert Quinn and the deceased Colleen Jacob. Until the Season 1 finale, she was thought to be the biological daughter of Donald Jacob before realizing he was her step-father. She is the maternal half-sister of Jude Adams Foster and paternal half-sister of Sophia Quinn. She also has been described as broken, particularly in the beginning of the series.
Biography
Callie is a troubled and headstrong sixteen year old who faced many hardships and an unstable childhood growing up. At the age of ten, her mother and step-father went out one night when her step-father became drunk and caused a car accident - killing her mother as a result. Callie struggled with deep regret on how her last conversation with her mother went, having been mad at her and refusing to kiss her goodbye before she left. After hearing about her mother's death, Callie suffered a mental break down, completely destroying her bedroom, which she blocked out from her memory. Her six year old brother Jude, was forced to witness this mental breakdown.
She and Jude were placed into the foster care system because their father was sent to jail for manslaughter for the accident, and they didn't have any relatives to care for them. Callie was forced to quickly grow up in order to care for her younger brother during their time in the foster system, often moving in and out of many fosters, some which proved to be abusive. This also forced her to become a motherly figure to Jude. As a result, Callie was often determined to shield him from any harm even if at the cost of her own personal safety. While at a foster father's home, Jude tried on a dress owned by the man's ex-wife. Their foster father walked in on him wearing it and began to violently beat him. Callie attempted to intervene, but was kicked in the stomach and tossed aside. Refusing to watch her brother be assaulted, she took a baseball bat to their foster father's car in order to distract his attention onto her.
Despite successfully saving her brother, Callie was sent to juvie for her action until it was decided what would happen to her. A social worker, Bill, from child protective services soon decided to send her to Lena and Stef, thinking a home without any male authority figures would do some good for her. In Consequently, Bill tells Lena and Stef that Callie and Jude never stay at a particular foster home for more than six months, something which initially alarms them. But he insists that, while they themselves are not bad kids, something bad always seems to happen to them.
She develops a romance with Brandon Foster shortly after moving in and dates him for a brief period, but they break up when realizing that Callie needs a family instead of a boyfriend. They have since tried to behave more like siblings and are on good terms. She has had an on-again/off-again romance with Wyatt. The status of their current relationship is unknown following Callie discovering he slept with Mariana.
She has since fought to be a legal part of the Foster family as her biological father, Robert Quinn, begins a custody battle over her. She agrees to try to form a relationship with Robert, saying that she does want him in her life as her father. However, Callie also tells Robert that her "forever home" is with the Fosters and that they are her family. Robert finally allows the Fosters to adopt Callie in the season 2 finale, The End of the Beginning, withdrawing his custody suite and officially signing away his legal parental rights to her. After a fight with the legal system, Callie is officially adopted by the Adams-Foster family in Lucky.
Physical Appearance
Callie is a beautiful girl with an oval shaped face, light-olive complexion, almond shaped brown eyes, and shoulder-length brown hair. Her hair was normally straightened during the beginning of season one, but then in later episodes was normally curled. Callie doesn't wear a lot of make up unless attending a formal event. Her fashion sense is very casual and comfortable; usually wearing jeans with t-shirts of various colors and casual shoes. She usually only makes an effort into dressing and fixing herself up for special occasions.
Personality
Callie is independent, intelligent, artsy and very loyal as well as protective over her loved ones. Throughout the show, she is shown to always put the needs of others ahead of herself, even if it costs her trouble. As a result of living and growing up in the foster system for the majority of her life, Callie is tough and sometimes closed off. However, she is also compassionate and kind at the same time.
She loves her younger brother Jude very much, always putting him ahead of herself and has even risked her life for him as seen in the Pilot episode. It is also shown that she doesn't care what happens to her, also seen in the pilot, as long as she knows that he is safe. As a result of taking care of Jude for most of her life, she has a strong tendency to sometimes act like his mother instead of his sister, much to Jude's frustration.
Series
Appearances (91/91)
| | | | | |
| --- | --- | --- | --- | --- |
| Season 1 (21/21) | Season 2 (21/21) | Season 3 (20/20) | Season 4 (20/20) | Season 5 (9/9) |
Girls United
Season 1
Relationships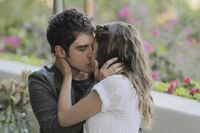 Main article: Brallie
In Consequently, Brandon and Callie's relationship was foreshadowed early on in the series when he ditched his girlfriend Talya, who had become jealous of Callie, in order to make sure Callie was okay. Their relationship grows stronger, and they continue to connect, all leading to them sharing their first kiss in I Do at Stef and Lena's wedding. They date for 4-5 episodes, even admitting they loved each other, but break up when they both realize that Callie needs a family instead of a boyfriend.
They briefly share a kiss in Someone's Little Sister after she reveals that Sophia tore up the abandonment papers and Robert wants official custody of her. Brandon later tells her that he cannot be with her because he doesn't trust her as she only ever comes to him when things are bad for her and, while he will always love her, simply can't trust her. He declares they are done, breaking Callie's heart. They have since tried to move on, attempting to behave more like siblings.
In the season 3 episode Idyllwild, Rita is about to be charged with child abuse when Carmen claims that she punched her, but Callie sends in a recording that proves she lied about it. However, Carmen earlier threatened that if she did then she would tell Callie's social worker about sneaking around with Brandon while on probation - ruining her chances of adoption. Believing Carmen, Callie tells Brandon, while they two stayed in a cabin for his music performance at Idyllwild, all about this and that she believes that the adoption will never go through. As a result, the two end up having sex under the belief they will never be siblings.
However, Rita ends up saving Callie by convincing Carmen she is above ruining a person's life - ensuring Callie's promised adoption. After a difficult time on deciding what to do, Brandon tells Callie that the family is what she truly needs and they agree to simply put their night of passion behind them. When Judge Ringer asks her about her relationship with Brandon during the official adoption, Callie truthfully tells him she and Brandon no longer have anything between them.
Wyatt and Callie became acquaintances in school, both bonding over being outsiders, which later turned into a relationship. When Wyatt steps in on Brandon and Callie having a moment, he comes to realization of her feelings for Brandon in Vigil. Wyatt tells her that he knows about Callie's true relationship with Brandon and encourages her to follow her heart - marking the end of their relationship. They resume their relationship in Adoption Day. However, they soon break up again when Callie believes she can't be with Wyatt after seeing how he handled running into Liam, after learning he previously assaulted her, and getting into a fight with him.
Liam and Callie were foster siblings 2-3 years prior to the Pilot episode. Liam started acting friendly towards Callie when she and Jude stayed with them. He soon began flirting with her, eventually bringing Callie to start a relationship with him despite the rules that foster siblings cannot be romantically involved. One night, he snuck into Callie's room and asked if she wanted to have sex. Despite telling him she wasn't ready yet, Liam raped her.
Afterwards, he lied and claimed that she came onto him, therefore resulting in she and Jude being kicked out. This resulted in Callie's immense guilt about dating him in the first place. She has since dragged him in court in I Do, but she loses the case due to insufficient evidence. They briefly see each other in Leaky Faucets at the Mexican Street Festival after Wyatt gets into a fight with him when attempting to force him to leave so Callie wouldn't have to see him. She has since finally gotten her justice for what he did to her, proving that he stole her identity by creating credit card debt in her name and effectively sending him to jail in Not That Kind of Girl.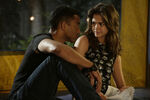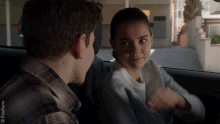 Trivia
Gallery
Quotes
Ad blocker interference detected!
Wikia is a free-to-use site that makes money from advertising. We have a modified experience for viewers using ad blockers

Wikia is not accessible if you've made further modifications. Remove the custom ad blocker rule(s) and the page will load as expected.