"
We probably judge ourselves way harsher than anyone judges us.
"
Ana Gutierrez Foster is the biological mother of Jesus and Mariana Foster, but abandoned them when they were young for a man and drugs, getting them put into the foster system.
Seven years later, she contacted Mariana searching for money for drugs, manipulating and blackmailing the whole family. She was presumed to be deceased, but she was later revealed to be alive, recovering from her addictions with the help of Mike Foster. She became clean and made her amends to Jesus and Mariana for all the mistakes she made.
She became pregnant with a baby girl, born in 2014. Her name was Isabella Gutierrez. Ana kept cusody of her, while her father remains unknown.
After a run-in with the twins' father, she got drunk and ruined her sobriety. However, she continues to try and redeem her slip-ups with the help of her recent fiance, now husband Mike.
Ana is portrayed by Alexandra Barreto.
Biography
Ana is the biological mother of Mariana and Jesus. She abandoned Jesus and Mariana when they were younger, likely around five years old, causing them to be put in the foster system and later adopted by Stef and Lena. Ana eventually came back to town and started online chatting with Mariana before meeting her in person.
At first, all she cares about is the money that Mariana is willing to give her, all to support her drug addiction, and even blackmails the Foster family for more. However, she eventually does show to genuinely love her children despite her past mistakes, following her finally kicking her addiction. She soon manages to become a part of her childrens' lives when everyone sees her true positive change. 
Physical Appearance
In seasons 1 and 2, Ana had short black hair, but has shoulder length hair from season 3 onwards, and has brown eyes.
Personality
Series
She and Mariana are chatting online, when Mariana meets Ana for the first time in years, and soon realizes Ana is using her for money.
Mariana meets up with her birth mom on the sly again and she gets a belated birthday gift, a stuffed animal.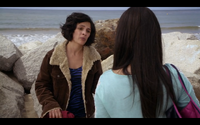 Ana is first seen down by the beach with Mariana. She is singing an old Mexican song that Mariana used to love when she was younger. When Mariana asks her how she's doing, she replies that she has been a lot better and has been clean for a week. Ana then proceeds to telling her about this place that could help her stay that way, but that she can't afford it. When Mariana states she doesn't have anymore money, Ana asks if there is anything her moms wouldn't miss, because she could give it to her and she would sell it. She even states that they are a family and a family takes care of family.
Ana calls Mariana at her house, but Mariana says that she can't be calling her at her home or ever again. When Mariana and Jesus go to see her, Ana hugs Jesus. She seems happy to see them, but she soon says that she needs money to escape her abusive boyfriend. They tell her they don't have anymore money. Soon later, her boyfriend comes. He states that he is going to the store. Ana asks him to buy her soda but he scoffs and asks if she has money. Ana looks worried when he leaves.
Ana is seen with Jesus at a local women's shelter, while Stef and Mike are looking for Jesus at Ana's home. Ana asks Jesus to borrow money. When Jesus gives her the money, Ana, pleased and happy, hugs Jesus, and Ana. Meanwhile, at the hospital, the officers tell the family that Ana actually did not stay at the shelter, and escaped. But by the end of the episode, they got her in custody. At the hospital, as they were leaving, the kids and Lena saw Ana arrested. Lena went up to her and tells her "If you ever go near my children again, that will be the last thing you do." Ana looks worried and shocked at the same time, the twins look at her and she looks back sadly as the officer takes her away. 
Ana meets up with Brandon because he wants to pays her the money Mike gave him for lessons as a bribe to get her to recant her testimony. The ploy works, and essentially saves Mike although Stef already confessed by this point.
Ana confronts Stef and reveals that her son gave her money to change the testimony for the case. And if Stef doesn't give her $10,000 she's going back to the police to retract her statement. Still trying to remain calm after this threat, she leans into Ana's ear and exclaims that if Ana ever comes back, she'll have her arrested for extorting a police officer.
Stef is seen waiting for Ana outside of a halfway house. When Ana meets up with her, Stef tells Ana that she will give her the money, but not until tomorrow at a diner. Stef then tries to make it crystal clear that the second Ana takes the money, they are to never see her ever again. Stef is seen waiting at the diner for Ana, but she never shows. She goes back to the halfway house in hopes of finding Ana. But according to them, no one's seen her. However, someone did see her yelling at a guy last night. While this is happening, we see that Dani has found Mike and he's in pretty bad shape. Not only is he an absolute mess, he has some cuts not to mention lots of blood on him. Dani asks if he got into a fight while she's cleaning the blood off.
Prior to this episode, Ana was presumed dead. When Dani asks for help from Stef, she decides to follow him. He unknowingly leads her to a motel. Stef, after debating what to do, ultimately decides to check out herself. When she knocks on the door, Ana answers, revealing that she is alive as previously thought.
Ana reveals in her AA meeting that she is pregnant and is hoping to do better by this child than Jesus and Mariana. Unknown to Ana, Jesus sneaked in to the meeting and overheard.
Ana moves into the Fosters' house, forcing Brandon to give up his bedroom. While driving with Mariana & Jesus, she ends up going into labor and on route to the hospital, they end up in a car accident.
Ana has to wear a brace given to her by the doctor after the crash.
Ana and Mariana go see Elena, Victor, and the rest of Ana's family for Father's Day at the grandparents' bakery.
Ana is with Mariana at a Catholic church to baptize Isabella.
Appearances (37/101)
Season 1 (8/21)

Season 2 (11/21)

Season 3 (8/20)

Season 4 (6/20)

Season 5 (4/19)
Trivia
Ana is a drug addict at the beginning of the series, but has since become clean. 
Ana disappears in Adoption Day and was thought to be dead. However, she appeared in Truth Be Told alive and well.
She has a few older brothers. 
The father of Isabella not known. He is not revealed or mentioned, other than the characters believing Mike could be the father and Ana confirming he isn't.
Ana is religious. In Faith, Hope, Love, it is shown that she was raised Catholic.
In Faith, Hope, Love, it is determined that Ana has likely begun suffering from Post-partum Depression.
Ana is the tenth character, after Lena, Stef, Callie, Brandon, Mariana, Jesus, Jude, and Emma - to appear in all of the first four seasons. She is also the second non-regular character to do this, after Emma.
Gallery
Click here to see Ana's gallery.
Quotes
Click here to see Ana's quotes.