Aaron Baker

General Information
Gender:
Male
Age:
19
Hair Color:
Brown
Eye Color:
Brown
Birthday:
7th December
Occupation(s):
Volunteer at the Junior Justice Center
Status:
Alive
Family & Friends
Family:
Jim Baker (father)
Deb Baker (mother)
Evan Baker (brother)
Friends:
Callie Adams Foster
Cole
Ximena Sinfuego
Relationships
Amanda (girlfriend)
Callie Adams Foster (ex-girlfriend)
Personal Information
Interests:
Law
Education:
High school graduate
Production Information
First appearance:
Trust
Portrayer:
Elliot Fletcher
Aaron Baker is a recurring character on The Fosters. He worked with Callie Adams Foster for the murder case of Mrs. Johnson that Kyle Snow was prosecuted for and trying to prove his innocence. In Justify, it is revealed that he is transgender and started his transition at age 16. He mentioned that he knew Cole, one of Callie's friends from when they were in Girls United. He introduced Callie to his family in Dirty Laundry when he went to Los Angeles for his father's birthday. He made his first appearance in Trust.
Aaron is portrayed by Elliot Fletcher.
Biography
Aaron Baker is a transgender man who used to be named Allison. He is not really supported by his father about his transition and Callie helps his mother understand how Aaron feels and to understand his transition
Physical Appearance
He has brown hair and brown eyes. He has pierced ears. He previously had stretched ears and usually wore plugs that looked like they were made out of wood. He is youthful and has a little bit of facial hair.
Personality
Aaron is always willing to help out someone in need, such as helping Callie to prove someone's innocence. He is very kind, he always cheers people up in times of need.
Series
Callie meets Aaron at a coffee shop and they begin talking. Callie lies about her name and says her name is Cameron. Before Aaron leaves, Callie gets on his motorcycle with him and they go to a beach. Callie takes photographs of Aaron and says he doesn't like his picture taken, but likes the ones Callie took. Aaron then kisses Callie and takes her to a former foster home of hers. Then Callie heads back home.
Callie reveals the truth to him and asks for his help with Kyle Snow.
Aaron brings information that could help Kyle to Callie at her home during Lena's party.
Aaron and Callie look through old case files to find something to help Kyle. Aaron reveals to Callie that he is transgender when he finds Callie destroying her senior project.
Appearances (23/101)
| | |
| --- | --- |
| Season 4 (10/20) | Season 5 (13/19) |
Relationships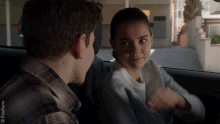 The first time he encounters Callie at a coffee shop, they talk for an unknown amount of time, then go to the beach where Aaron kisses Callie; she appears to kiss back. They continued to hang out in Trust and grew closer to the dismay of AJ. Eventually, Callie and AJ split up, and in the episode Dirty Laundry she and Aaron become a couple. They appear to have sex for the first time at the end of Chasing Waterfalls.
Despite breaking up, they remain friends and he helps with Ximena. Callie then admits to being in love with him.
Lindsay
Aaron's previous girlfriend after transitioning. They broke up prior to him meeting Callie.
Amanda
After he and Callie break up, he starts dating her. He chooses to stay with her after Callie admits to being in love with him.
Quotes
Trivia
Aaron is transgender, and mentioned he's friends with Cole.
Aaron transitioned when he was 16.
Elliot Fletcher, who plays Aaron, is also transgender.
Aaron has a crush on Callie and did not initially believe her when she told him she had a boyfriend (AJ).
He doesn't like getting his picture taken.
Aaron's dead name is Allison, which is what his parents still call him.
Gallery